Silicon Tubing
Our range of Silicone Cords & Tubing are fabricated using finest quality viton and silicon rubber. These are highly useful in various industries across the world. With the assistance of our engineering excellence we are able to manufacture the highest quality products which can restrain in any conditions. Our products are highly appreciated by many users.

Our silicon-extruded tubing is used in food industry,Pharmaceutical industry,Medical application etc. Our tubing provides outstanding biocompatibility, having been subjected to extensive laboratory testing. Cytotoxicity and heavy metal testing is also included in this. Being resistant to chemicals, temperature variations and abrasion it is high in purity and therefore delivers a long lasting performance.

Our silicon tubings are ideally suited for exacting medical, pharmaceuticals and industrial application like pharmaceutical transfer, peristatic pumping, laboratory, clinical, hospital application involving body tissues & fluids.


Advantages:



• Non-toxic
• non-leaching
• and pyrogen free
• Non-reactive to body tissue and fluid
• Non-adherence to tissue
• Unaffected by most water soluble material
• Temperature resistance from -80 deg. Celsius to 250 deg. Celsius
• Sterilized by steam
• dry heat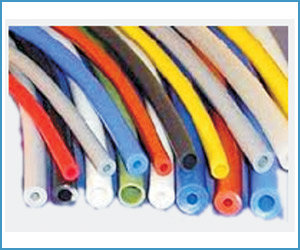 Silicon Tubing